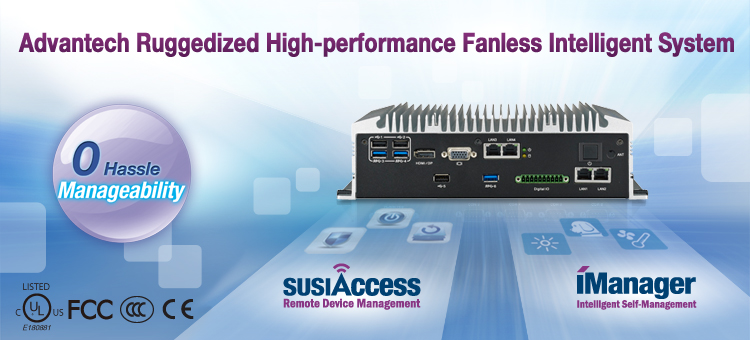 | | |
| --- | --- |
| | Multifunctional Design Offers High Performance and Excellent Manageability |

Today's complex, multi-device communications and management challenge embedded applications. With that in mind, Advantech offers ARK-2150 fanless intelligent system, suited for a range of embedded applications that need extreme reliability.

Features highlight

| | |
| --- | --- |
| | Powered by 3rd generation Intel® Core™ i3/ i7 processor |
| | Dual independent display: VGA + HDMI/ Display Port + DVI-D |
| | 12 ~ 24V wide range DC input with lockable connector design |
| | 3 x MiniPCIe for WLAN, 3G/LTE or mSATA modules |
| | 4 x Intel® GbE, 3 x USB 3.0, 4 x RS-232/422/485 ports, 8-ch Isolated DIO |
| | Supports Intel® Active Management Technology (iAMT) 8.0. |
| | Supports iManager, SUSIAccess and Embedded Software APIs |

Video is not visible, most likely your browser does not support HTML5 video

Experience how ARK-2150 provides hardware- and software-based manageability solutions

| | |
| --- | --- |
| | Superior Design for Embedded Markets |

High Computing Performance

| | |
| --- | --- |
| | 3rd generation Intel® Core™ i3/i7 CPU with up to 20% improvement on performance and 30% on graphics |

Rugged by Design

| | |
| --- | --- |
| | -20° ~ 60° C wide temperature |
| | 5G vibration/50G shock resistance |
| | IP40 Protection |

Outstanding Graphics

| | |
| --- | --- |
| | Intel® HD Graphics 4000 with DXVA, OpenGL* 3.0 and DirectX 11 |
| | Supports VGA, HDMI, and DVI-D display types |

Intelligence Built-in

| | |
| --- | --- |
| | Remote Monitoring |
| | Security Protection |
| | Backup and Recovery |

Specifications & Ordering Info

Model Name
ARK-2150L-S6A1E
ARK-2150L-S7A1E
ARK-2150F-S6A1E
ARK-2150F-S7A1E
Processor
3rd Generation Intel Core i3-3217UE 1.6GHz
3rd Generation Intel Core i7-3517UE 1.7GHz
3rd Generation Intel Core i3-3217UE 1.6GHz
3rd Generation Intel Core i7-3517UE 1.7GHz
Memory
1 x DDR3/DDR3L - 1333/1600 MHz, up to 8G
1 x DDR3/DDR3L - 1333/1600 MHz, up to 8G
Display Interface
VGA + HDMI / DisplayPort
VGA + HDMI / DisplayPort + DVI-D
Ethernet
2 Intel GbE
4 Intel GbE
USB
4 x USB 2.0, 2 x USB 3.0
3 x USB 2.0, 3 x USB 3.0
Serial
2 x RS-232, 2 x RS-232/422/485
4 x RS-232/422/485
DIO
8-bit non-isolate DIO
4-bit DI & 4-bit DO with 2.5KV isolation
Power Input
DC 12V, Lockable DC Jack
DC 12~24V, 2-pin Phoenix Head
Audio
Realtek ALC892, Support Line-in, Line-out, MIC
Storage
2.5" SATA HDD & mSATA
Expansion
2*full-size miniPCIe (one with SIM holder ) & 1*half-size miniPCIe
Operating Temperature
-20 ~ 60° C (-4 ~ 140° F)
Dimension
264.5(W) x 133.0(D) x 75.1(H) mm
Datasheet
Datasheet
Product Page
Product Page
Product Page
Product Page

| | | |
| --- | --- | --- |
| | back to top | |

Benchmark Performance

Superior Performance for Intelligent Systems

| | |
| --- | --- |
| | Adopts Intel 22 nm Core i3 & i7 dual core processors |
| | Increases CPU performance by up to ~8% with lower or the same power consumption. |
| | 87% 3D Gfx performance over SNB, faster media performance |
| | DDR3 or DDR3L SODIMM Support, up to 8GB for speedier data transmission and exchange at lower power |
| | USB 3.0 or SATAIII ports up to 6Gb/s available |

| | |
| --- | --- |
| CPU Performance | Graphic Performance |
| | |

| | | |
| --- | --- | --- |
| | back to top | |

Dimensions / Mounting Kit

| | |
| --- | --- |
| | Dimensions (W x D x H): 264.5 x 133.0 x 75.1 mm/ 10.41" x 5.24" x 2.96" |
| | Supports wall mount / VESA mount bracket |
| | Easy for installing and system integration |

| | | |
| --- | --- | --- |
| | back to top | |

Software Services

Enhanced Security & Manageability from lntel ATM8.0

| | |
| --- | --- |
| | Remote diagnosis and repair |
| | Software and hardware inventory capabilities for remote management |
| | Hardware based security features including system defenes filters and network isolation |
| | Power state control |

Manage Applications Efficiently with iManager & SUSIAccess

ARK-2150 embeds

iManager

intelligent self-management cross platform firmware that monitors system status for problems and reacts to take action if something Additionally,

SUSIAccess

is a utillity and API bundled with ARK-2150 to configure and monitor the system– and recover it if it fails. Both software tools help the system to be more reliable and smart.

| | | |
| --- | --- | --- |
| | back to top | |

Case Study

Ruggedized High-performance Computing Platform for Traffic Surveillance
Fast and Neat, Secure and Manageable

China's prospering economy has driven major population increases in big cities like Beijing and Shanghai, and the attendant increases in vehicular traffic has caused traffic nightmares. Authorities are taking action to deploy traffic monitoring systems to help enforce traffic laws and maintain public safety. These traffic monitoring systems detect traffic violations, retrieve images, recognize vehicle plate numbers, and send the data to traffic authorities' central server for further action. Such outdoor applications require extremely rugged and reliable industrial computers with high-computing power and rich networking connectivity; they are deployed on many main thoroughfares–especially around intersections.

ARK-2150, featuring an 3rd generation Intel core i7/i3 processor with a fanless design, has joined the team carrying out Beijing's traffic control mission. With its -20 ~ 60° C wide temperature support, up to 4 Gigabit Ethernet ports, rich I/O interfaces and remote management, Advantech is proud to send the ARK-2150 to do battle in challenging environments.

| | | |
| --- | --- | --- |
| | back to top | |

Packing List & Optional Accessories

Optional Accessories

Accessories
Part Number
Description
WiFi module
AMO-WIFI06E
WIFI 802.11 b/g/n mini PCIe module (w/antenna)
Cellular module
EWM-C106FT01E
7.2 Mbps HSUPA , WCDMA module, w/o voice function
Tri-band WCDMA 850/ 1900/ 2100 MHz,
Quad-band GSM/ GPRS/ EDGE 850/900/1800/1900 MHz
1750006009
Internal Coaxial GSM Cable 25cm
1750005865
GSM/GPRS dipole antenna, 850/900/1800/1900/2100 MHz,
DIN-rail mount
9666K10000E
DIN-rail mounting kit
VESA mount
1960025333N011
VESA mount bracket, support 75x75mm or 100x100mm
Power Adapter
1757003934
Adaptor 100-240V 60W 12V 5A

OS/API

| | |
| --- | --- |
| OS/API | Description |
| Windows XP Embedded | ARK-2150 WES2009 multi 24 language |
| Windows XP | Microsoft Windows XP PRO SP3 32/64bit |
| Windows 7 Embedded | ARK-2150 WES7E 32/64bit ENG/JP/TC/SC |
| Windows 7 | Microsoft Windows 7 PRO SP1 32/64 bit |
| Linux | Ubuntu 12.04 |
| Software API | Advantech SUSIAccess & iManager |

| | | |
| --- | --- | --- |
| | back to top | |

---

For more information on any of these products:






| | |
| --- | --- |
| | Forward to a Friend! Feel free to share the news with your colleagues, customers, partners and friends. |
| | Shop Online For more information about our products visit our eStore online. |
| | Privacy Policy Advantech is committed to protecting your privacy. We do not sell, rent, or give away any of your personal information. |

Advantech is commited to protect your security. We do not sell, rent or either give away your personal information.
If you have join our mailing list by mistake, we apologize for any inconvenience might be caused.
To unsbscribe send an email to
nomail@advantech.gr
and automatically you will be removed from our mailing lists.