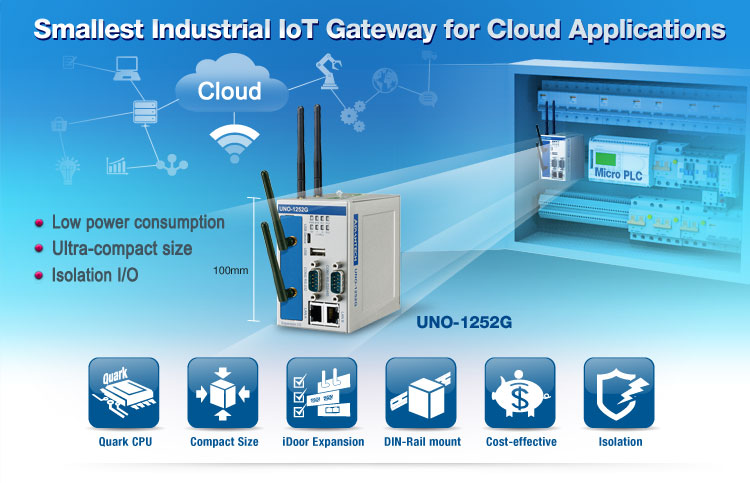 | | | | |
| --- | --- | --- | --- |
| | The UNO-1252G is a palm-size Intel Quark DIN-rail controller for IoT (Internet of Thing) gateway solution for cloud application specifically focused in industrial field. With Dual LAN, COM, USB, isolated Digital I/O ports and isolated COM, the UNO-1252G also includes a 1GB SD Card to run a Yocto Project Linux distribution which is an open source allows users to fast develop their own application using an SDK. | | |




UNO-1252G-Q0AE

UNO-1252G-A0AE

CPU
Intel Quark X1001 400 MHz
TI Cortex A8
AM3517 600MHz
Memory

256 MB DDR3 800 MHz

256 MB DDR2
OS
Yocto Linux
WEC7/ AdvLinux
Storage

1 x micro SD card slot (build-in 1 x 1G micro SD card)

2 x micro SD card slot
(build-in 1 x 512MB
micro SD card)
I/O

1 x Isolated RS-232, 1 x Isolated RS-232/485, 2 x LAN,
2 x USB 2.0, 8 x Isolated DI/O, 1 x SIM slot

1 x RS-232, 1 x RS-485
1 x RS-422/485
2 x LAN, 1 x USB 2.0
1 CANBus

iDoor Expansion

Wi-Fi 802.11 a/b/g/n 2T2R w/ Bluetooth4.0 (PCM-24S2WF)
Wide-Temp 3.75G HSPA and GPS, 2-in-1 (PCM-24S33G)

-
Why Intel Quark in IoT?
The Intel Quark CPU in the UNO ensures native extended operation temperature [-40+85°C] providing the best backbone to a rugged gateway for harsh environment applications. SoC solution brings a total TDP of only 2.2W enabling a perfect compliance with field installation and green footprint.

Why Linux Yocto?
The IoT revolution is bring changes to the OS world as well, that's why a Linux solution is needed. This selection decreases the development costs because Yocto Project utilizes one of the biggest developer communities. The UNO-1252G now comes with an SDK to enable fast application development.
---
For more information on any of these products:
| | |
| --- | --- |
| | Advantech offer Service and Support in Greece since 1987. |




Forward to a Friend!

Feel free to share the news with your colleagues, customers, partners and friends.

Shop Online For more information about our products visit our eStore online.



Privacy Policy Advantech is committed to protecting your privacy. We do not sell, rent, or give away any of your personal information.