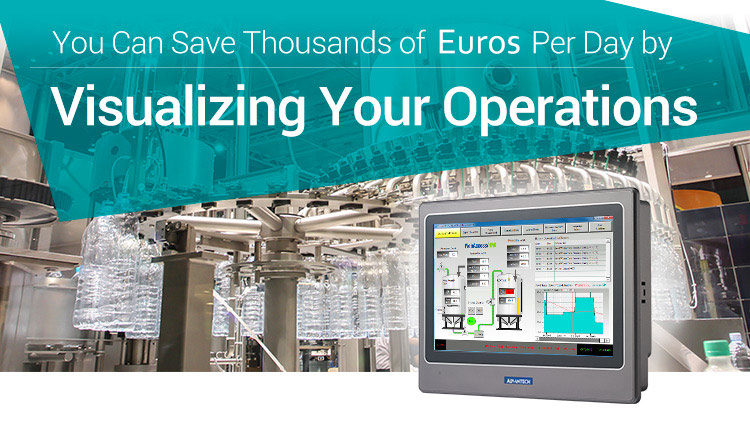 As food and beverage manufacturers target higher production rates with hundreds of PCs deployed throughout the factory, the management of complex processes becomes more critical. Managers need a single interface that allows them to spot trends and patterns more quickly.

Benefits of Visualization

High Operational Accuracy

Increased
Productivity

Labor
Savings

Predictive
Maintenance

Advantech Process Visualization Solution

UNO-1251G:
Cloud-enabled HMI Platform with programmable OLED display for status and error indication.
|



WebAccess/HMI:
Development software to create application solutions for labor-saving, improved efficiency and easy control of every device in the factory.
Model Name
WOP-2040T-N1AE
WOP-2070T-N2AE
WOP-2100T-N2AE
UNO-1251G-A0AE
Description
Display panel with IP66-rated front panel for on-site operations
Micro gateway with programmable OLED display
Size
4.3"
7"
10.1"
CPU
ARM9-based RISC 32bits, 200MHz processor
RISC 32 bits TI ARM® Cortex™-A8 processor
Operating
System
WebAccess/HMI Designer
Purchase
Information
WebAccess/HMI Development Software

Software comes pre-installed on Advantech's WebOP-2000T operator panels and UNO-1251G Cloud-enabled HMI Din-rail platform.

Smart Screen Management
Software Functions to Meet Various Machine Needs
Project-based Structure to Manage Multiple Applications
Friendly Tools to Make Customized Designs Easier and Efficient
Supports over 450 types of PLC/Controllers

Videos

Learn how Advantech's UNO-1251G Cloud-enabled HMI edge Gateway cam bring intelligence to your machine.

Learn about Advantech WebAccess/HMI software and the whole suite of IoT Software, WISE-Paas, used to develop domain specific applications.
Talk with your Advantech consultant
For more information on any of these products:
| | |
| --- | --- |
| | Advantech offer Service and Support in Greece since 1987. |




Forward to a Friend!

Feel free to share the news with your colleagues, customers, partners and friends.

Shop Online For more information about our products visit our eStore online.



Privacy Policy Advantech is committed to protecting your privacy. We do not sell, rent, or give away any of your personal information.