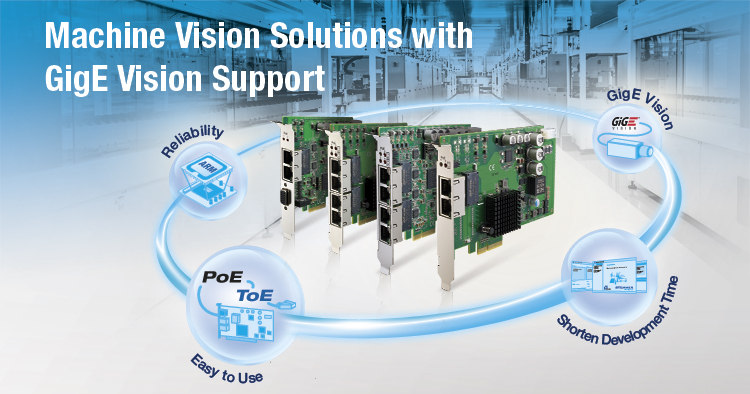 Advantech is now launching four new PCI Express vision cards. The PCIE-1172/1174 are high end frame grabber models with a dedicated onboard ARM processor and the PCIE-1672E/1674E are entry level interface card models. Both series of cards use Power-Over-Ethernet (PoE), and support Power from the PCI Express bus.
Backend semiconductor packaging
inspection machines

The semiconductor industry has some of the most demanding applications, requiring a combination of extreme accuracy and precision combined with high throughput. Keeping up with innovations in packaging, the challenges to achieve this drastically increase. The fast-paced progress towards greater densities and finer dimensions are pushing the limits of vision systems.



| | |
| --- | --- |
| | Key Features of Machine Vision Solution |
| | |
| --- | --- |
| GigE Vision Support | Shorten Development Time |





▪ GigE Vision compliant
▪ Reduce CPU workload
▪ Provide viewer utility and
.NET Component SDK
▪ GeniCam and Gen
TL compatible,
support for MVTec
HALCON, Stemmer
Imaging CVB







▪ ToE/PoE single cable
solution to reduce
installation and
maintenance time
▪ Dedicated Coprocessor
for network traffic,
image acquisition
▪ No frame and packet loss







▪ Modularized expansion chassis
▪ Versatile I/O interface







▪ Designed for hash environment
▪ Front accessible I/O interface
and storage







▪ High price performance ratio
▪ State-of-art graphics
performance







PCIE-1172
2-port PCI Express
Intelligent GigE Vision
Frame Grabber

PCIE-1174
4-port PCI Express
Intelligent GigE Vision
Frame Grabber








PCIE-1672E
2-port PCI Express
GigE Vision
Frame Grabber

PCIE-1674E
4-port PCI Express
GigE Vision
Frame Grabber







MIC-7500

Intel® Core™ i7 Automation Computer w/ 2 x GbE, 2 x mPCIe, HDMI, DVI-I







UNO-3283G

Intel 6th Generation Core i Processor Compact Fanless System







AIMC-3421

Micro Computer, Intel Haswell Core i7/i5/i3 CPU, 4 Expansions (2 PCIe / 2 PCI), 300Watt 80Plus PSU



For more information on any of these products:
| | |
| --- | --- |
| | Advantech offer Service and Support in Greece since 1987. |




Forward to a Friend!

Feel free to share the news with your colleagues, customers, partners and friends.

Shop Online For more information about our products visit our eStore online.



Privacy Policy Advantech is committed to protecting your privacy. We do not sell, rent, or give away any of your personal information.