Philips Public OPS Monitors & Signage Players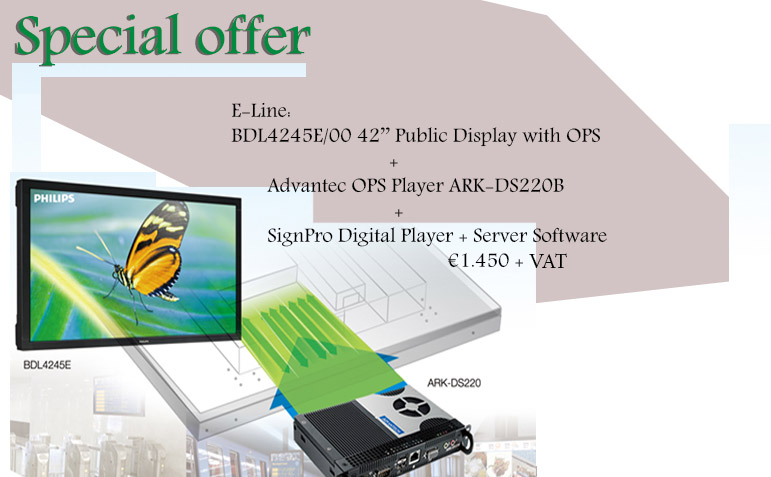 Philips Public Signage
and
Advantech
present to you the most ideal solution for all public signage needs.
Philips OPS (Open Pluggable Specification)public signage display with full HD resolution, wide viewing angles and extremely fast response times.


Advantech Intel OPS slot-in player with full HD playback and easy integration.


Complete solution designed for 24/7 use.
E-line Series

V-line Series

Q-line Series

Impress and captivate your audience

Deliver stunning images

Attract your audience with the thin bezel, full HD LED displays

Deliver your marketing messages in startling clarity with the Philips E-line series.

Ideal for projects which need eye-catching design at an affordable price.


Broadcast your marketing messages in style with the slim bezel V-line series.

So sleek, it will make your audience stop and stare.

Deliver startlingly clear images in a more eco-friendly way with the edge LED displays. High on performance and reliability, yet low on power consumption, it is ideal for projects where no compromise is accepted.

Key features:

Optimised for public viewing
Designed for 24/7 operation
Low total cost of ownership
SmartPower for energy saving
Brightness automatically adjusts with ambient conditions

Key features:

Full HD LCD display, 1920 x 1080p
Slim bezel design for a stylish look
Smart insert in the back cover to place a small PC
High brightness for clearer images
Enhanced zoom feature supports tiled matrix applications

Key features:

Edge LED Backlight
SmartPower for energy saving
Brightness automatically adjusts with ambient conditions
Temperature sensor measures the health condition
Advanced anti-image sticking function

Technical Specifications
Digital Signage Players
ARK-DS220 Series

ARK-DS262 Series

ARK-DS306 Series

ARK-DS520 Series

Atom N455 [1.66GHz]
/
Atom D525 [1.80GHz]

i3-3217UE
/
i7-3555LE

AMD G-Series T40N+A50M 2C2T

AtomN455 [1C2T ,1.6GHz]
/
AtomD525 [2C4T ,1.8GHz]

GT218, RAM 2GB, 1xGLAN

250G HDD

1.0GHz, RAM 1GB, HD 160G

RAM 2GB, CF,
FanLess OR FanBased

HD 8G-SSD
/
HD 160GB

2G RAM

2xGLAN, VGA, HDMI, AUDIO-IN/OUT

2xGLAN, VGA/HDMI/DVI-D, AUDIO-IN/OUT

1xVGA, AUDIO-IN/OUT, 1xMini-PCIe, 2xUSB, 1xRS-232. OPS with DMI/DP

1xMini-PCIe, 2xUSB, 2xRS-232, Cfast, PWR

2xMini-PCIe, 4xUSB, 2xRS-232, 1xGPIO, PWR, 160G HDD
---

For more information on any of these products:









Forward to a Friend!

Feel free to share the news with your colleagues, customers, partners and friends.

Shop Online For more information about our products visit our eStore online.



Privacy Policy Advantech is committed to protecting your privacy. We do not sell, rent, or give away any of your personal information.



Copyright ® 1983-2013 Advantech Co., Ltd. All Rights Reserved. Privacy Policy
Advantech is commited to protect your security. We do not sell, rent or either give away your personal information.
If you have join our mailing list by mistake, we apologize for any inconvenience might be caused.
To unsbscribe send an email to
nomail@advantech.gr
and automatically you will be removed from our mailing lists.