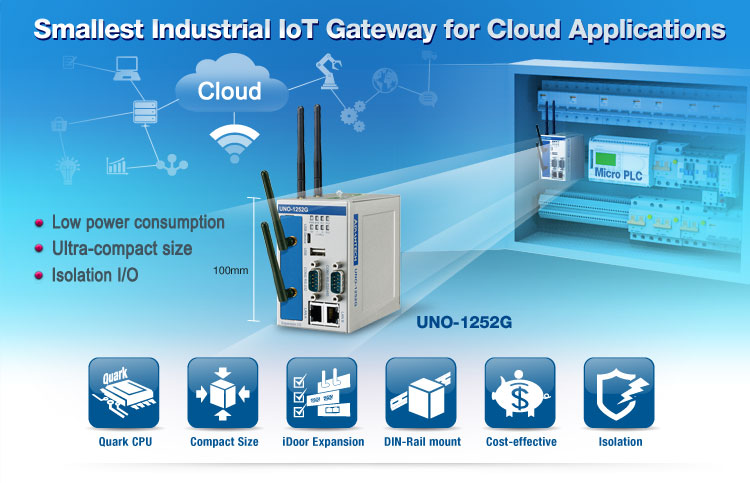 The smallest Industrial computer from Advantech has been designed to act as a gateway for industrial applications. As small as a micro PLC, the UNO-1252G is only 10cm high and the DIN-rail mountable UNO-1252G comes with the new low power consuming Intel Quark processor which will only use 10 watts whilst being powerful enough to perform data transmission and sensing function in IoT gateway applications.

Gateway computers are useful because they help to connect legacy devices to the Internet of Things (IoT) without needing to replace the entire infrastructure. The small, economic UNO-1252G is ideal for this purpose since it has an array of integrated I/O ports and the ability to expand even further by using a choice of iDoor modules.

To protect itself from spikes in the electrical supply, the UNO-1252G includes isolated COM and Digital I/O ports and also supports a wide voltage range of 10~36VDC to fit into a wide range of cabinets and makes it easier for rewiring.

Advantech's iDoor technology is a new modular way of adding versatile functionality to give system integrators the flexibility to choose the functions that they need without purchasing devices that have excess costs and functions that they'll never use. iDoor modules can be used to add additional cards such as Wi-Fi, 3G and GPS making the UNO-1252G ideal for use in remote locations.

As well as the Intel Quark processor, the UNO-1252G also includes a 1GB SD Card to run a Yocto Project Linux distribution. The Yocto Project is an open source Linux distribution which allows users to develop their own application using an SDK. The UNO-1252G also supports Advantech software applications such as SUSIAccess for remote control and monitoring. As well as the SD card, and Isolated Digital I/O ports, the UNO-1252G includes two 10/100 LAN ports, a mPCIe card slot, five LED indicators for Power, Battery, SD Card, COM Ports and three programmable indicators for engineers to assign their own functions.
---
For more information on any of these products:
| | |
| --- | --- |
| | Advantech offer Service and Support in Greece since 1987. |




Forward to a Friend!

Feel free to share the news with your colleagues, customers, partners and friends.

Shop Online For more information about our products visit our eStore online.



Privacy Policy Advantech is committed to protecting your privacy. We do not sell, rent, or give away any of your personal information.