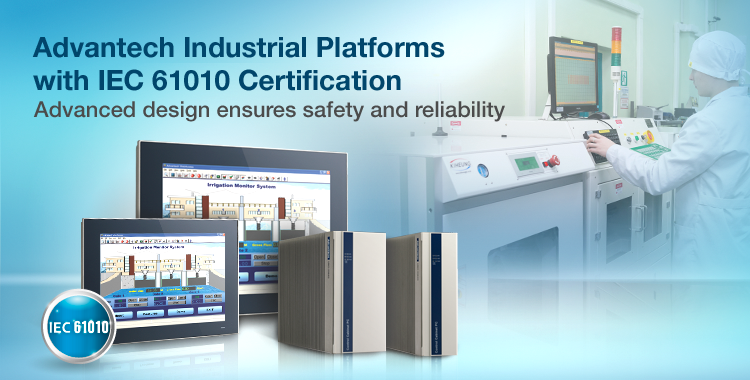 With the increased flexibility and functionality of information technology, PC-based platforms have become viable alternatives for industrial automation. To ensure robustness and safety, and facilitate deployment for various measurement, control, and laboratory applications, Advantech's PC platforms have undergone IEC 61010 certification. In accordance with the IEC 61010 standard specifications, Advantech has improved the following three aspects of the overall product design:
More robust housing unit

The housing unit underwent a drop test using a 500-g steel ball from a height of 130 cm to demonstrate that the glass panel will not shatter or present a danger to workers.

Improved system stability

The platform is equipped with a 24VDC +/- 20% input power range to ensure stable operation and shock and vibration tolerance.

Superior fire protection

All component materials have a minimum flame rating of V-1 to prevent fire or explosion.
| | | |
| --- | --- | --- |
| | Equipped with a fanless design, isolated power supply, and an IP66-rated front panel that protects against dust and water ingress, Advantech's PC platforms deliver premium reliability for control and monitoring applications. | |
TPC-5152T / TPC-5172T / TPC-5212W
• 6th generation Intel® Core™ i3-6100U processor
• Optimized rugged housing for industrial applications
• iDoor technology, PCIe, removable SSD, M.2, and a front-facing wireless antenna for flexible expansion
• 3 x GbE ports, TPM, MRAM, and isolated power supply for control software compatibility
• IEC 61010-2 and IEC 60950-2 compliant
UNO-3382 / UNO-3384
• 4th generation Intel® Core™ i7/Celeron® processor with 8/4 GB of DDR3L memory
• 2 x GbE, 2 x USB 2.0, 2 x USB 3.0, 1 x RS-232/422/485, 1 x HDMI, 1 x DP, 2 x PCI/PCIe, 2 x mPCIe (2 x full)
• Hot-swappable HDD/SSD (RAID 0/1) storage support to ensure easy maintenance
• Flexible mount options for installation in control cabinets with limited space
For more information on any of these products:
| | |
| --- | --- |
| | Advantech offer Service and Support in Greece since 1987. |




Forward to a Friend!

Feel free to share the news with your colleagues, customers, partners and friends.

Shop Online For more information about our products visit our eStore online.



Privacy Policy Advantech is committed to protecting your privacy. We do not sell, rent, or give away any of your personal information.