PrinfoStation™
Freedom to Access and Print information and forms.
Reduces cost and improves efficiency - example's being the Town/City Halls - Police Stations or other service offices where citizens quickly and easily using the PrinfoStation™ will have access to offered information with the ability to print information and application forms on standard A4 paper, ready to fill in, and to submit, thus limiting the need and cost to keep a lot of preprinted forms, freeing up time for workers and making the whole process more efficient.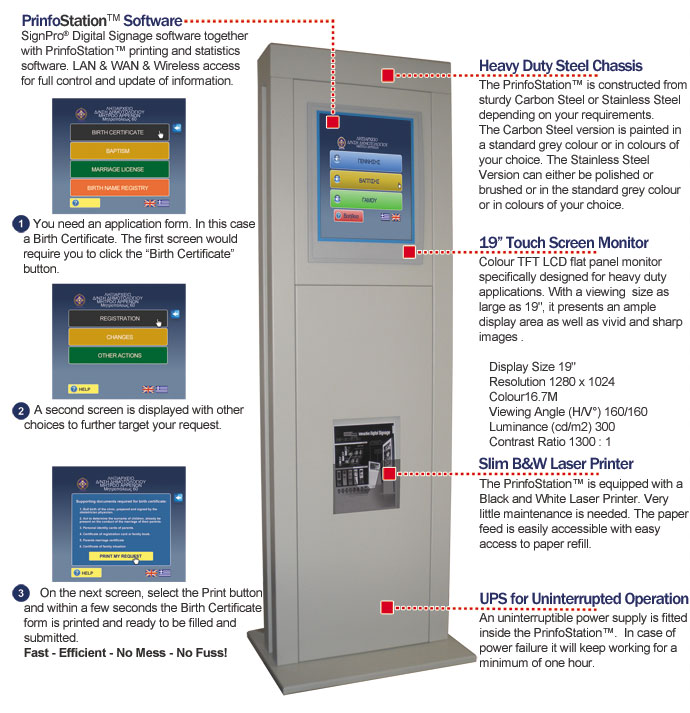 Custom Designs for your PrinfoStation™
PrinfoStation™ can be custom designed and with your colours. It has ample space for decals etc.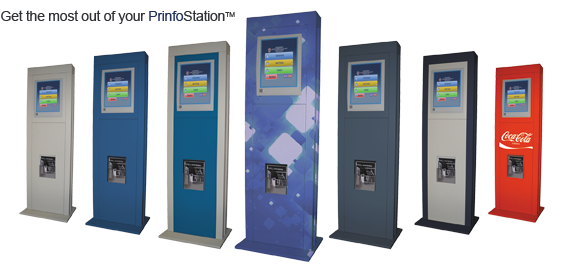 Application Uses for the PrinfoStation
Public Library
Do not walk looking for books in the library. Locate them with your PrinfoStation™, search for desired books, read previews and find its location together with information such as ISBN numbers and books of a similar topic. Get a print out of all selected book titles with the details to find them in the library.

Hotels & Resorts
Guests can easily find any points of interest close to the hotel, such as restaurant, bars, stores, etc. Print information and maps for desired locations together with information on how to get there.

Super Stores and Hyper Markets
Super Stores and Hyper Markets are ideally suited to use the PrinfoStation™. Stores of this size have a huge selection of products covering a vast area. Customers can pinpoint selected products of interest, get comprehensive information for desired product and print information with the locations of each product. A route can be mapped out on the printout so the customer can efficiently move through the store in the minimum amount of time.

Mobile Phone Stores
Purchase a new mobile phone. Simply on the PrinfoStation™ check all the mobile phones available at the existing store find the specifications for each phone and select a plan that best suits you.
Print out the corresponding purchase forms, fill them and submit them. All the standard features of our SignPro® Digital Signage Software such as High Definition Graphics Video, Images and Sound are supported


User Statistics
View and Print Statistics for each individual PrinfoStation™ and/or chain of stations. Statistic information is available in graphical and tabular format for pages accessed and for forms or other information printed over a requested time period.
Access to the administrator panel is possible from any computer with an internet connection regardless of where you are.


Also Available